Thank you for your participation in the FSAC :: DW11.
---
The Rules
The Voting Categories List your top 3 favorites [in order] in the following categories ::
---
The Awards
We want to note that 10 people voted this time around.
Group One Entries
Group Two Entries
Group Three Entries
Group Four Entries
Favorite Participant Overall
Participant
Place
Total
Points
A. Magiluna Stormwriter
1
15
Merfilly
6
0
Susan P.
3
6
Layla Aaron
5
1
Athena
1
15
openended
4
4
Celievamp
2
8
Annette
6
0
Geekgrrllurking
2
8
elliemurasaki
6
0
cherokee62
6
0
Andromeda Valentine
6
0
Shatterpath
4
4
Favorite Entry Overall
Note: This award was based on the overall point totals of all the entries in groups 1, 2, 3, & 4.
---
Specialty Awards
Shatterpath Award :: Patchwork Land by openended
It feels like I have not given out my special Shatterpath Award for some time. Years ago, I decided that my criteria was the author selling me on a genre that I know little or nothing about. Not an easy task! This round, I have a clear winner in 'Patchwork Land,' by openended. What do I know about Sanctuary? Helen Magnus is immortal and has connection with some musty, famous authors and that Amanda Tapping is sexy with dark hair. Not a strong place to come into a story. Luckily for me, not only did openended sell me on Magnus, but the mysterious Amelia Earhart. There were some complicated temporal stuff in this one I managed to follow, as well as technojargon that helped tell the tale without weighing it down. And the ending? The ending was bang on. All in all a project I enjoyed reading and giving my little award to.
Stormwriter Award :: A Meeting of Minds by Susan P.
I base my award on the one story that completely pulls me in and basically makes me forget pretty much anything else I've read in the calendars. And this story did it. Yes, there was the advantage of being one of my favorite pairings to read and write, but it was more than that. This really felt like an extension of the episode in question. It had that feeling of a completed scene that was cut for time reasons, but was restored on the DVDs, as those scenes always make the aired scenes/episodes seem that much richer and more nuanced for me. And I love that the accidental sharing of memories gave a bit of a kick start to what could be a truly lovely connection between them.
---
The Graphics
Winners & participants must save these graphics to their own servers for display.
Do not
steal our bandwidth by hotlinking.
Links can be made to http://fsac.shatterstorm.net/yule2011/
Thank you!
Participants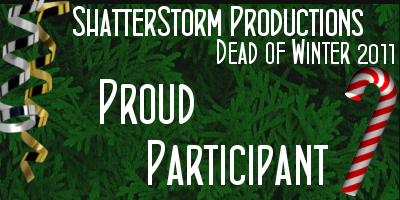 Weekly Favorites Winners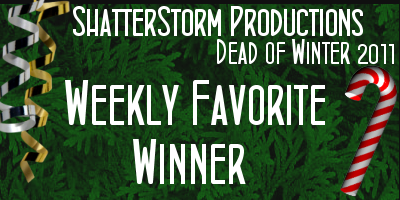 Overall Favorite Participants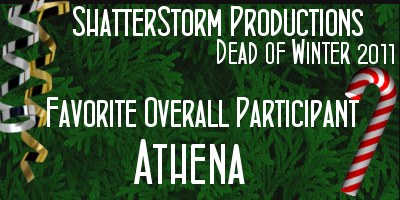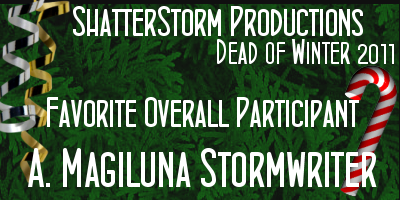 Overall Favorite Entry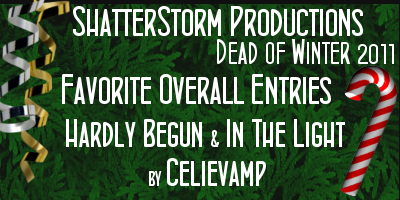 Shatterpath Award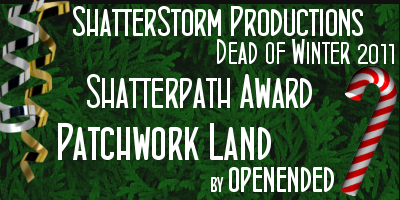 Stormwriter Award