Thank you for your participation in the FSAC :: DW10.
---
The Rules
The Voting Categories List your top 3 favorites [in order] in the following categories ::
---
The Awards
We want to note that 14 people voted this time around.
Group One Entries
Group Two Entries
Group Three Entries
Favorite Participant Overall
Entry
Place
Total
Points
A. Magiluna Stormwriter
2
12
dhamphir
2
12
Shatterpath
6
3
quiethearted
1
20
merfilly
4
5
layla_aaron
3
11
quaedam
9
0
dagas_isa
9
0
svgurl
7
2
Geekgrrllurking
5
4
Gin
5
4
Annette
8
1
Hollie
8
1
cherokee62
5
4
Cj
8
1
romansilence
5
4
Favorite Entry Overall
Note: This award was based on the overall point totals of all the entries in groups 1, 2, & 3.
---
Specialty Awards
Shatterpath Award :: Difficult Days, Lonely Nights by merfilly
I have a soft spot for this cartoon, from watching it with my brother growing up. I really like the grown-up way that merfilly treated this story and the characters.
Stormwriter Award :: A Long Road to Salvation: The First Step Is the Hardest by Annette
This was a beautiful story that really made me look into the character of Santana and how I view her. The use of the introspection and backstory in this piece, particularly for Santana, really weaseled into my brain and made me want more.
---
The Graphics
Winners & participants must save these graphics to their own servers for display.
Do not
steal our bandwidth by hotlinking.
Links can be made to http://fsac.shatterstorm.net/yule2010/
Thank you!
Participants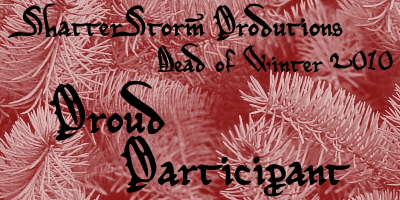 Shatterpath Award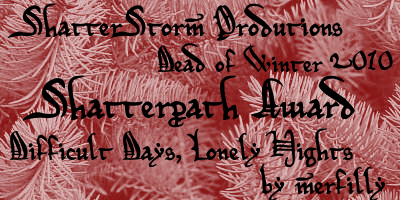 Stormwriter Award